Blog — Page 2
2018.02.02
Another major update has been released.
Not everything that was planned for this version has been implemented, but due to several non-working mail services, a new version had to be released ahead of schedule.
Gradually, the planned functionality will be added to the program.
If you have good ideas, the implementation of which will benefit not only you, but the majority of users - write letters, perhaps your suggestions will be implemented over time.
2017.07.01
Currently, work is underway on the next version of the program. The main nice features will be a checker and a proxy generator.
There will be two checkers for mail accounts: the first one is a web version (so far only for mail.ru), the second one is a pop3 protocol (it is already present, but will be made a little more convenient).
Proxy generator. It will be possible to set proxy ranges in the standard format (1.0.0.0-2.255.255.255) and a separate list of ports. The generator will be built into the settings (i.e. it can be selected instead of the list of proxies), into the proxy checker (i.e. it will be possible to specify ranges, ports, and run the checker), and as a separate tool (generating a file with a list of proxies for use elsewhere). The generator is placed in the settings and in the checker in order to save memory, because connecting gigabyte proxy files to the same checker would be a big performance hit.
In addition, there will be many other pleasant things.
Approximate remaining time of work on the update is 1-2 weeks.
2017.05.22
The long-awaited update of the creator has been released.
The main innovations are: support for SMS services (so far only for Rambler and Yahoo), a convenient and functional (for the built-in) proxy checker, work through Tor (which did not really live up to expectations, because everyone who is not lazy uses it ), and more detailed settings for working through a proxy.
A large number of settings have been added that allow you to customize the recorder for almost any need. For example, non-stop registration through their proxy lists with auto-renewal enabled - if the working proxies run out, the threads will wait for the list to be updated, and after that they will continue to work. More detailed settings for working with dead and blocked proxies. Advanced settings for generating registration data. For a complete list of changes, see the version history page.
Not everything that was planned was included in the release. Suppose we were going to add registration through real browsers, but there were technical difficulties. I hope in the future all this will be resolved, and you will get an alternative method of registering mailboxes, more resource-intensive, but less flimsy for mail services.
In addition, work has been done on bugs, a small optimization of resource use, usability improvements and interface updates.
As promised, the price of the program has increased, but at the same time the product has become even more competitive. Despite the increase in price, it remains acceptable. For the convenience of users, temporary licenses have been introduced - you can buy the program for the period you need - from one day to a year, or pay more and get an eternal license.
A personal user account has also been added, in which you can independently relink the license to another hardware. A personal account is created automatically when purchasing a license and is attached to the specified mail.
If you have a proposal for the mass purchase of licenses - write, we will make a nice discount!
Happy using!
2017.02.24
While work on a new version of the program is in full swing, jambs with the existing version pop up.
An early update has been released to fix the outlook.com/hotmail.com registration. It is also known that ojooo.com no longer registers - they entered registration using their application.
The new version of the program will be a relatively large update. Users of the PRO version of the program are waiting for several small but nice features in the settings, a simple proxy checker, registration via SMS services (for the first time only for Rambler, but others will be added in the future), and, perhaps, another interesting feature .
I want to warn you in advance that the program will be distributed on a subscription basis.
2016.12.31
Dear users, I congratulate you on the coming New Year! I wish you health, happiness and success in your business endeavors and continuations.
This year has been difficult for us quite fruitful, a lot of work has been done on the program. It was not possible to implement everything planned, but we try to keep the program up to date and continue to add functionality.
In the new year, you are waiting for program updates with the addition of functions, such as a proxy checker, work through Tor, support for SMS services, which means that new mail services will be added that allow you to register mail only with SMS confirmation (for example, yahoo).
2016.10.06
For today, boxes are registered on all the indicated mail services, letters are sent and received from them (tested on a clean Russian static IP).
Work is underway to add recognition of reCaptcha2 by Antigate, Kapmonster and its simplified manual solving.
2016.08.04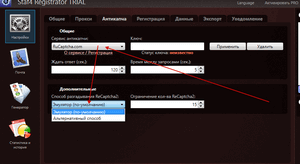 A long-awaited update has been published - the ability to work with reCaptcha2 has been added.
The appearance of a way to bypass recaptcha2 from the Rucaptcha service (it is also supported by the program) overshadowed the appearance of this feature. Nevertheless, a lot of work has been done, the results of which will be especially relevant if the way to bypass Rucaptcha falls off.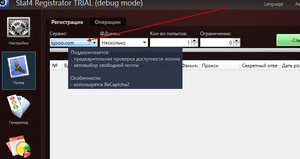 Recaptcha2 can be solved both manually and through anti-captcha services (so far only antigate.com and rucaptcha.com are supported).
In the anti-captcha settings of the reCaptcha service, there is a setting for choosing the method of solving: by an emulator (sending a picture to the service) or by their own method. The Antigate service so far only supports guessing the picture (but in the near future a method similar to Rucaptcha may appear).
At the moment, only qip.ru, meta.ua, and ojooo.com mailers have been added using reCaptcha2 (which can be found by hovering over the selected mail service), but other services will be added over time.
Also, the new version added the ability to notify by mail and icq about the completion of registrations (a new tab in the settings) and fixed a couple of errors (for more details, see history).
The price won't stay like this forever, buy the program for 3000 rubles.
2016.05.24
Starting with today's update, mail.ru and yandex.ru will no longer be supported in the free version of the registrar. They remain in the program, but when they fall off, then they fall off.
In the paid version, they have been redone. Yandex results no longer include blocked accounts. MailRu has also been rewritten, which should have a positive effect on registration results.
2016.04.25
Rambler.ru and Ukr.net introduced mandatory SMS confirmation and were removed from the program.
Soon mail services will be added to replace them.
2016.04.21
Since yesterday, Rambler has introduced mandatory phone confirmation via SMS during registration. You can open boxes without a phone through the program, but the captcha is given in color. Perhaps after a while the rambler will completely cover up the reg without SMS confirmations.
A little more information in the topic: https://zennolab.com/discussion/threads/rambler-obnovil-kapchu-30-03-2016.26449/