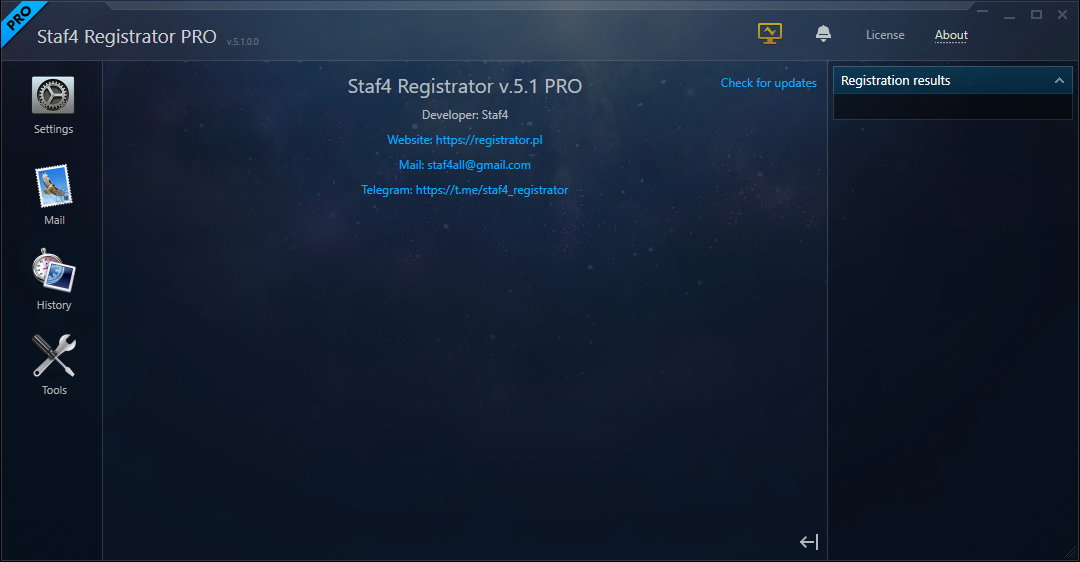 Registration of mails with the ability to activate SMTP / POP3, pre-check login and ban ip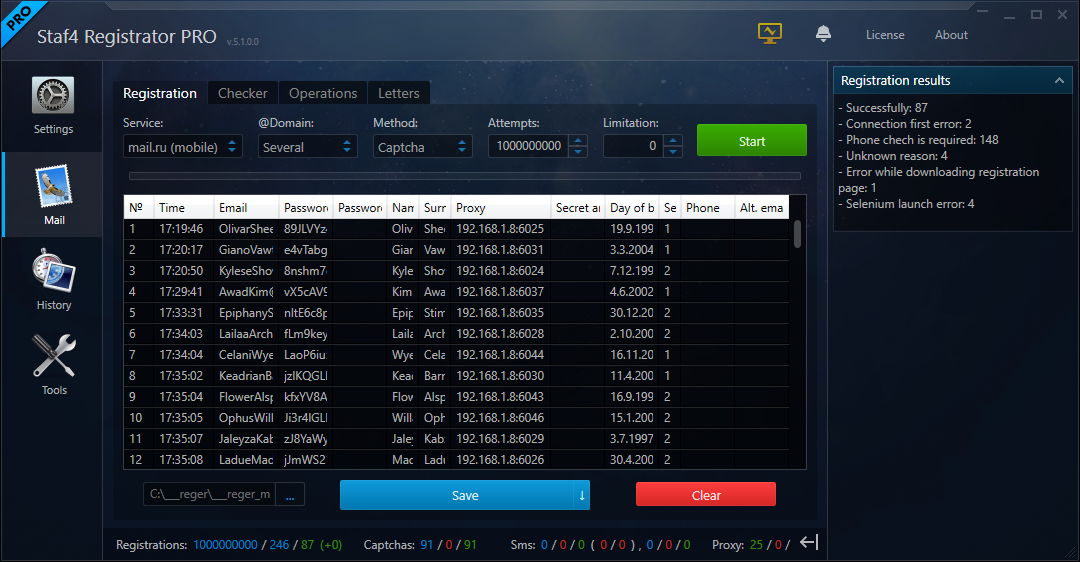 Fine-tuning work through a proxy, automatic updating of lists by links and from files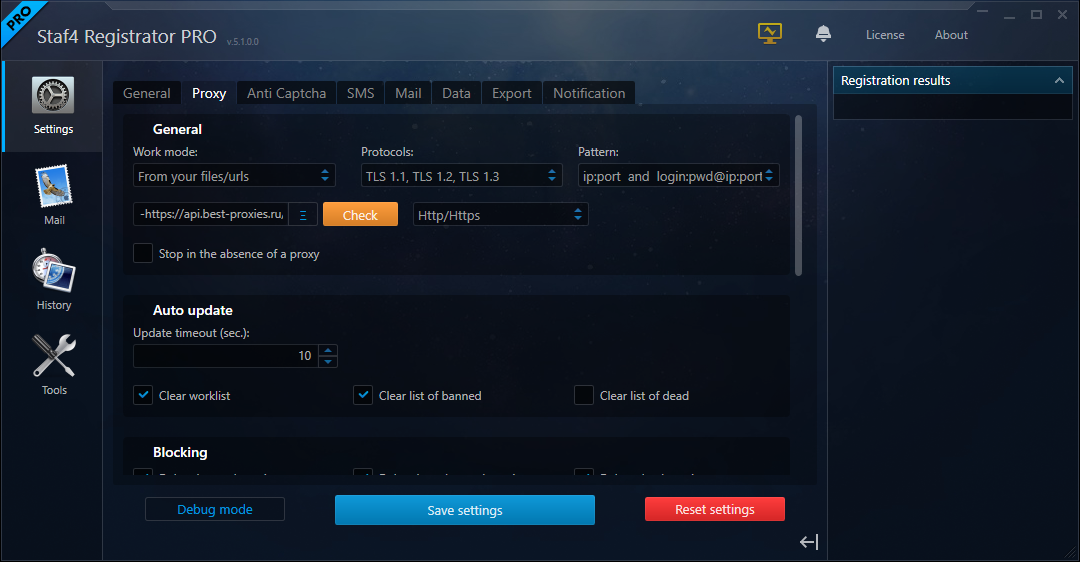 Support for popular anti-captcha services, CapMonster, XEvil, reCaptcha2/3, hCaptcha, FunCaptcha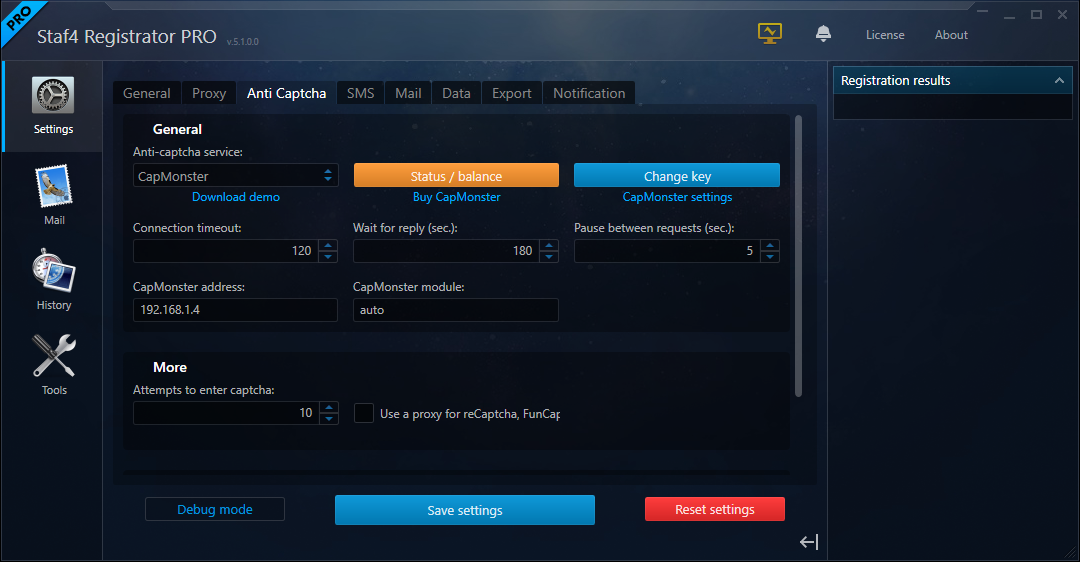 Support popular sms services and manual phone/sms input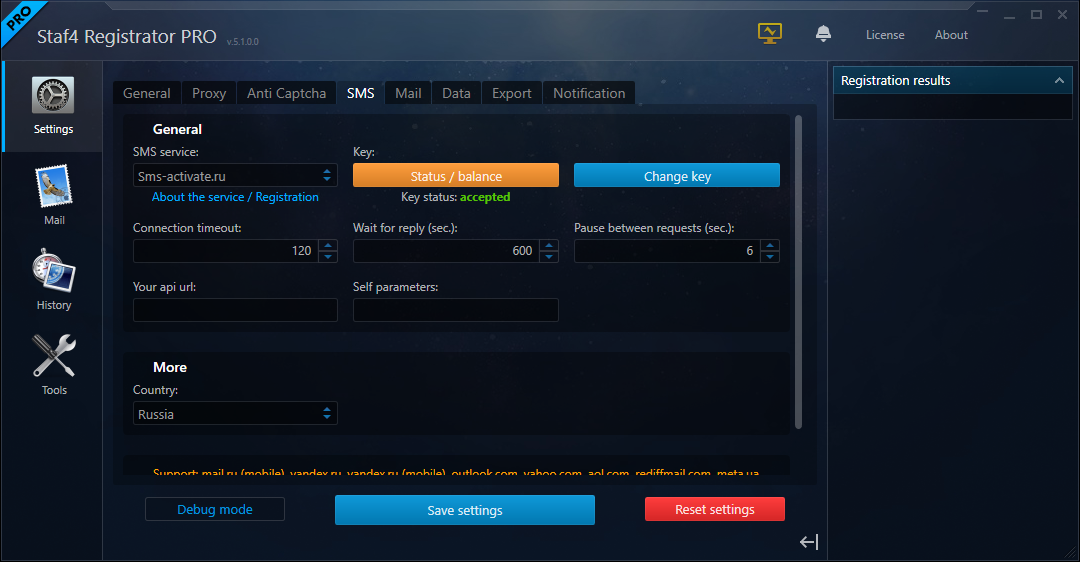 Detailed settings for generating and filling in registration data, a built-in database of names / surnames in different languages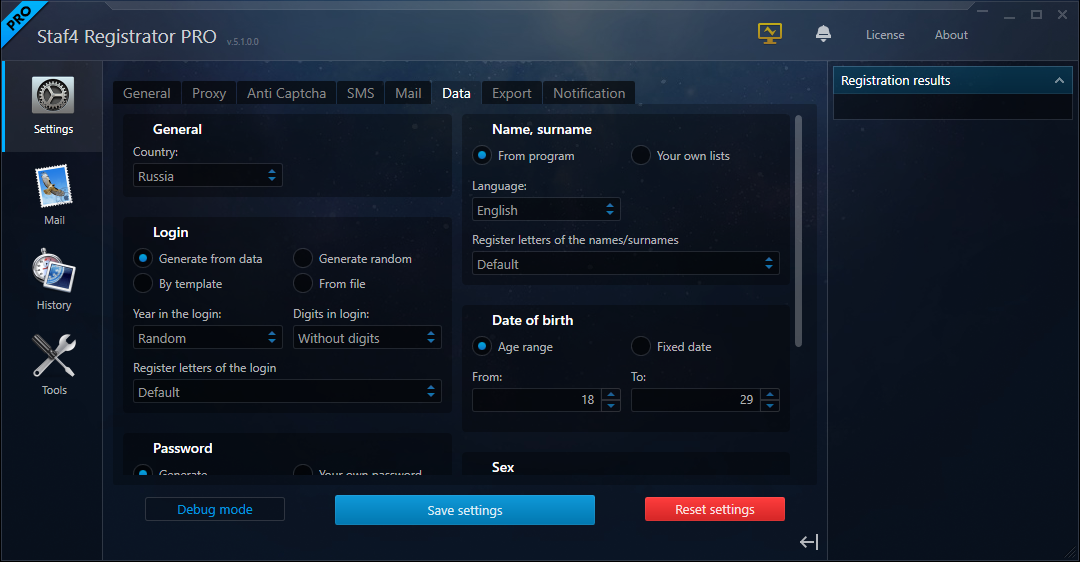 Customizable export of registration results. Email notification of the end of the program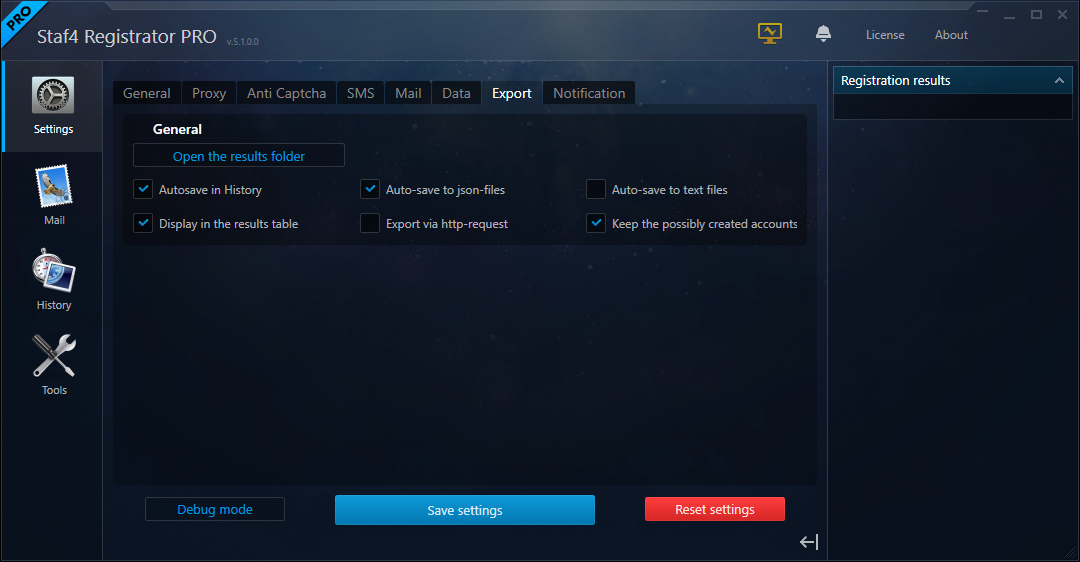 Backup of all registered mails to a local database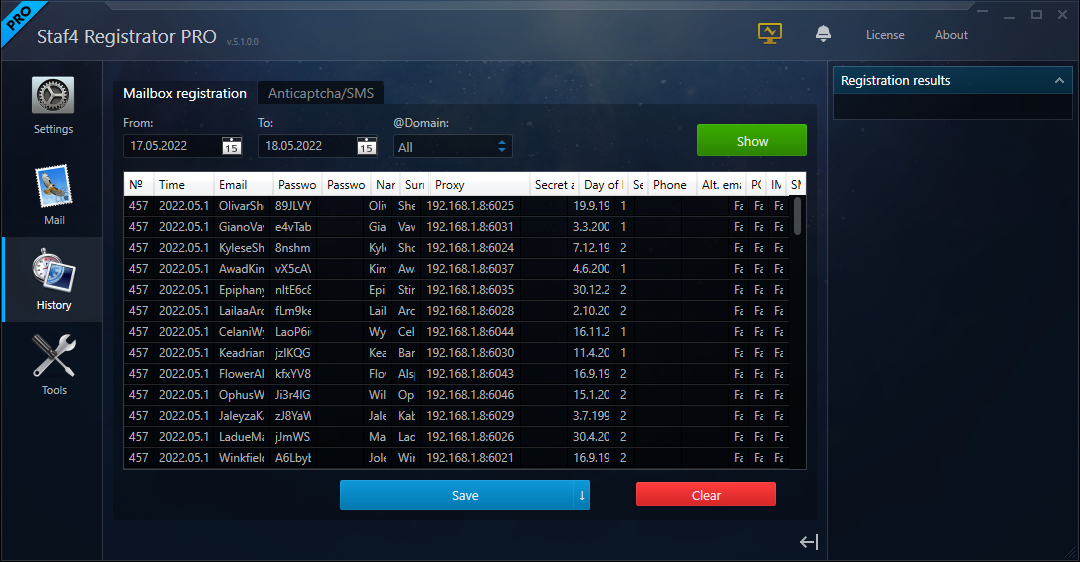 Built-in proxy checker with the ability to check its link for the presence of the specified substring in the response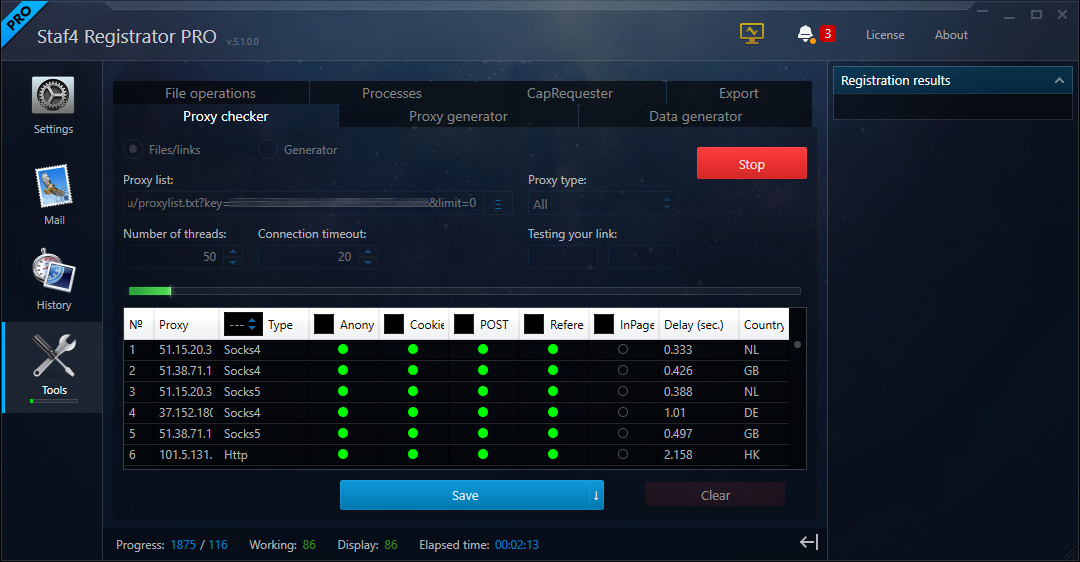 Staf4 Email Registrator
Description / purpose
The program is used for multi-threaded automatic mass registration of mail accounts, in the common people - "Mail Account Creator".
It differs from analogues in a large number of settings, a convenient interface, and a relatively low price. There is an opportunity to buy the program both for a limited time and forever.
Features
multithreading, high registration speed
support for http/https proxy, socks 4/5, mobile proxy with IP change, support for multithreaded registration via Tor
activation of SMTP / POP3 / IMAP during registration and separately from it (some mail services)
registration using SMS services (some mail services)
registration using a real browser (some mail services)
automatic and customizable generation of registration data (database embedded)
support for manual entry of captchas, as well as anti-captcha services: CapMonster, XEvil, Capmonster Cloud, rucaptcha.com, anti-captcha.com, capsolver.com, 2captcha.com, 1stcaptcha.com
support for manual input of phone / sms, as well as sms services: sms-activate.ru, vak-sms.com, onlinesim.ru, grizzlysms.com, sms-activation-service.com
checking the availability of the login and the absence of the need to enter a real phone number BEFORE sending the captcha
fine-tuning the registration process; the ability to execute an external program between registrations
proxy checker; proxy generator
convenient beautiful interface; multilingualism
Supported mail services
mail.ru
yandex.ru / yandex.com
rambler.ru
outlook.com / hotmail.com
yahoo.com
o2.pl
wp.pl
meta.ua
ukr.net
Blog
2022.09.07
The site is completely updated, not only visually, but also internally. In the future, this will increase the fault tolerance of the program and allow you to add previously inaccessible functionality.
2022.03.18
Restored payment via QIWI and Webmoney (now via WMZ).
2022.03.09
Update 5.0.7 has been released. Some countries began to block Russian ip. For this reason, without dancing with a tambourine, it became impossible to activate the application.
To solve the problem, on the application activation screen, in the settings, the ability to specify a proxy for the program itself has been added.
2022.02.16
Update 5.0.6 has been released. Among other things, for working through Tor, the setting for specifying a bridge has been added. This was done due to the blocking of Tor in some countries (including Russia). More details at the link - Getting bridges for TOR.
Also for Mail.ru, getting a password for an external application (IMAP / POP3 / SMTP), in short - "VP Password", has been added. By default, the password is not exported to the result file. To export, open "Settings -> Export -> Autosave to Text Files", select "Custom Format" and enter "#EMAIL#:#EMAILPWD#:#PWDEA#" ".